Pretty good flying this morning. Kevin was hammering flight after flight trying to get his 30. Managed to do eight touch and goes and four full stop landings. We have also practiced big ears emergency descent maneuvers and several forced landings. Well done, he's got 28 flights now.
Konstantin managed three flights he's taking it tad slower because he doesn't have as much experience as Kevin but he's very solid. His total is 5 flights.
Mike was standing by taking video and helping out. His shoulder is still very sore.
Fun times. We have some crappy weather coming our way – it looks like next possible flying won't be till Saturday morning. I think the students are planning to get drunk tonight. Ha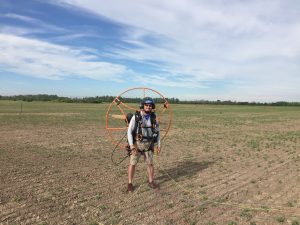 http://www.poweredparaglidingontario.com/wp-content/uploads/2014/12/logo-v1-300x137.png
0
0
Andre Zeman
http://www.poweredparaglidingontario.com/wp-content/uploads/2014/12/logo-v1-300x137.png
Andre Zeman
2017-06-22 19:05:19
2017-06-22 19:17:13
June 22/17 - PPG course day 6 am