Again it was a mayhem at the field. Luckily Massimo was already completely independent and I could simply tell him to go flying. He quickly managed eight more flights to get to 30 – we have also practiced big ears which he did quite well and engine out procedure.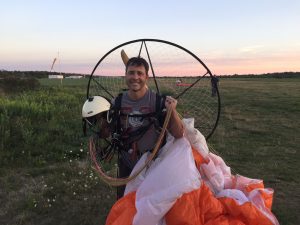 Congratulations Massimo on completing the practical course requirements!
Ben got his 30 flight 3 yrs ago and just came to do XC flight which he did.
Chris added another flight to his log – he now has 9 flights.
Stephane flew his ass off – 8 flights and one turtle
I felt like air traffic controller with 4 guys in the air…
Awesome course – I had lots of fun. This was a great crew! Thank you guys.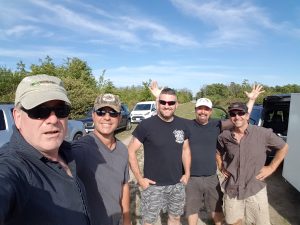 From left to right: Chris, Massimo, Stephane, Ben and me
http://www.poweredparaglidingontario.com/wp-content/uploads/2014/12/logo-v1-300x137.png
0
0
Andre Zeman
http://www.poweredparaglidingontario.com/wp-content/uploads/2014/12/logo-v1-300x137.png
Andre Zeman
2016-08-25 08:19:36
2016-08-25 08:20:35
Aug 24/16 pm - Massimo, Stephane, Ben and Chris