The plan was to meet at 7 AM at the field. For some reason I woke up at 4 o'clock in the morning after five hours of sleep, checked the weather and it was 20 km/h wind. I thought that's quite a bit this early in the morning. By 6:00 AM the wind was 24 km gusting to 33 km/h. I texted the guys and made a decision to scrap the morning. I was simply assuming it will only get windier. As it turned out at 7 o'clock TAF was showing 17 km/h that was supposed to last till 9 AM. Since Kevin was ready to solo I thought we better take a chance on that.
When I got to the field the wing was 15 gusting to 20 not very stable but acceptable. Kevin got ready and on the third inflation got off the ground. The wind was quite strong initially Kevin got pushed back a little bit but then I told him to be sent and he started to penetrate and everything looked OK. I could tell it was quite windy so I wanted to get Kevin down ASAP. I brought him in on the long final for landing and my radio battery ran out when he was about 50 feet in the air so couldn't give him any guidance at all. At this point he already had engine turned off so I was just hoping he's going to make a good landing. Not so much though, he had gradually started to turn crosswind and then down wind… It wasn't very hard landing, no damage to the equipment but it certainly wasn't according to the book. Ha ha. Mind you I felt like I have exhausted little bit of my instructors luck.
Congratulations Kevin on your first solo flight. Conditions were not easy but you handled yourself like a pro except the downwind landing.
Mike was happy to video.
Konstantin started to ground handle shortly after Kevin landed but wind got  stronger and gusty so he only got about half an hour out of it. Then we were off for breakfast.
Kevin will have to buy round a beer next time we go to a pub after flying
It looks like tonight will be evening off – we will have some thunderstorms coming in!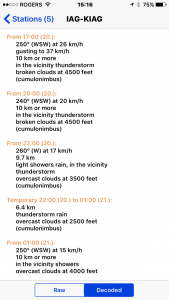 http://www.poweredparaglidingontario.com/wp-content/uploads/2014/12/logo-v1-300x137.png
0
0
Andre Zeman
http://www.poweredparaglidingontario.com/wp-content/uploads/2014/12/logo-v1-300x137.png
Andre Zeman
2017-06-20 15:38:01
2017-06-20 15:50:38
June 20/17 - PPG course day 4 am